"Strategically Positioned" is the title of the current sustainability report with which WOM presents the result of intensive work on its sustainability strategy.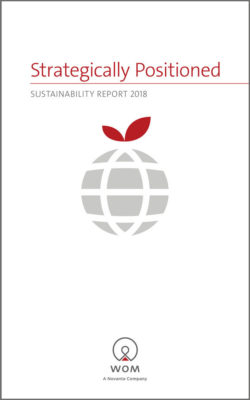 In the third year of reporting, the company held workshops in order to determine which of the global sustainability challenges are relevant for WOM and how it intends to adapt to them. The aims and measures for the years 2019 to 2024 were defined in the following areas:
Company
Products and Supply Chain
Staff
Environmental Protection
Social Commitment
In addition, WOM reports on its activities in the year 2018 when, for example, it undertook certification in accordance with the international environmental management standard ISO 14001:2015, introduced professional Environment Health Safety (EHS) management and made efforts to facilitate the recycling of equipment. In the area of commitment, WOM proved to be a reliable partner of BigShoe®.
The sustainability report is also the Communication on Progress (CoP) for the UN Global Compact, in which WOM has been a participant since 2016.
Xenia Rabe-Lehmann
© Photo: BigShoe e. V., Photographer Joachim Umbach