The CSU politician Ilse Aigner took the opportunity for a quick visit to WOM during the fall retreat stay of her party at the nearby monastery Banz in Bad Staffelstein.
The Bavarian State Minister for Economics and Media, Energy and Technology had inquired about the trials and tribulations of the medical technology company. Barbara Schöffel and Stefan Becker reported on the daily challenges of a medium-sized enterprise in the region. Especially the topics of skilled labor shortages, problems with finding apprentices, infrastructure difficulties, and the future elimination of the ICE train stop in Saalfeld were discussed.
After a detailed discussion, Ilse Aigner and other local party representatives were taken on a company tour for a brief insight into the production conditions of the clean room facility.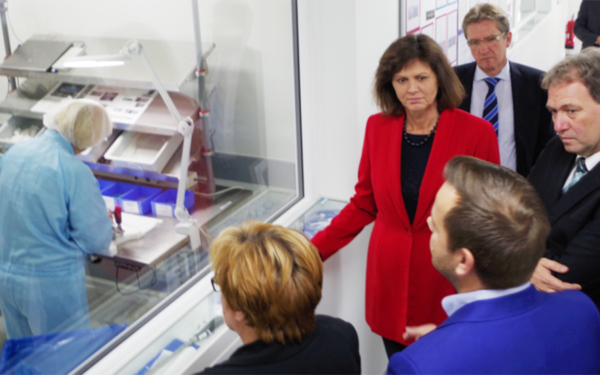 Wilma Mitzlaff