WOM has a long tradition of presenting the products of the year in a mix of retrospect and outlook. At the in-house Top Launch Party 2017, the teams of our core competencies, Insufflators & Pumps and Cameras & Photonics, presented their highlights at the end of the year.
Outstanding among the products is the insufflator technology with integrated smoke evacuation, which was launched this year. The result is a clear view for the surgeon during surgery in the abdominal area – meaning OEM customers are thrilled with this excellent innovation that provides a great benefit for surgical teams.
In the area of pumps, our multi-indication pump was equipped with a newly developed two-load cell system. It will set new standards for hysteroscopic procedures, as it allows a very accurate fluid balance. This is important in ensuring that there is no undetected excess fluid in the patient's body during surgery. For endourological surgeries, various new modes have been developed.
Two further highlights include a new autoclavable camera head with a titanium housing and an autoclavable zoom lens for endoscopic cameras. An autoclave is used in clinics for sterilization. A sterilization cycle lasts more minutes at 134° C and up to 3 bar. The new camera head must survive several of these cycles unscathed.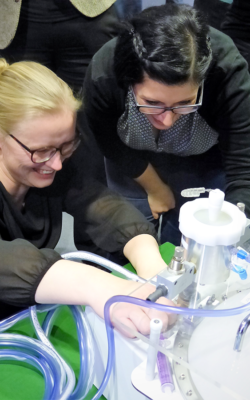 Management praised not only the finished new products, but also the outstanding cooperation between the various departments at WOM – an indispensable factor when you consider that in some devices nearly 70,000 hours of development work is spent with teams of more than 30 people.
At the subsequent get-together, it was possible to check out, test, and of course celebrate the devices at the respective booths.
Xenia Rabe-Lehmann