WOM once again awards a football for "Fair Play" in regional youth sports and equips the winning team with jerseys. The SG Steinberg in the B-Junior League District Ost-Kronach is this year's happy recipient of the round trophy awarded to the fairest players on the football field.
The medical technology company supports "Fair Play" for the seventh time in a row. The B-Juniors of the SG Steinberg have played quite fair with only ten yellow cards in the season. The team has another reason to be happy with its promotion to the district league.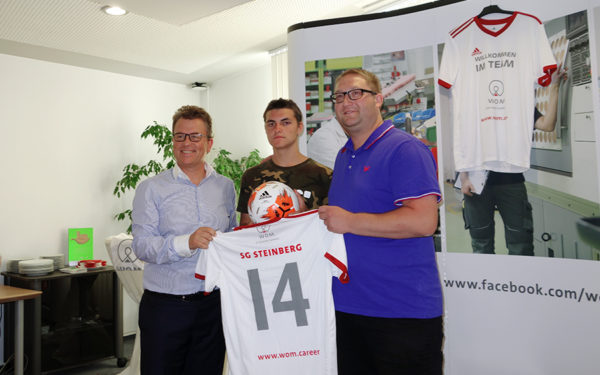 "Fairness pays off", as COO Thomas Frei (left) praises and thanks the team. Congratulations to the team and thanks for the commitment of WOM from Mayor Timo Ehrhardt as well as the junior supervisor Christian Engelhardt (right).
After the trophy was handed over, the winning team had the opportunity to discover the exciting world of medical technology with their special devices for the field of minimally invasive medicine during a company tour.
WOM continues to support fair play and good sportsmanship!
Wilma Mitzlaff